Follow these guidelines to help determine whether a roof is a good candidate for a roof coating and, if so, which coating is most appropriate.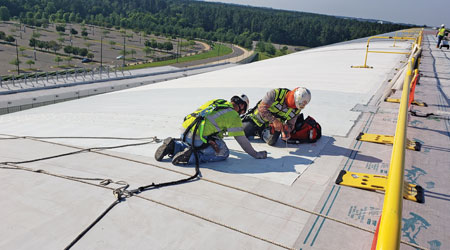 Recovering a roof on an institutional or commercial facility is a far less intensive process than replacing a roof, and it is a logical starting point when considering roof work. With advances in roof coating materials and a host of new options on the market, building owners and managers might be increasingly inclined to look to a roof recover as a less expensive, less disruptive option than full replacement.
How can owners determine whether the roof is a good candidate to receive a roof coating, and, if it is, which coating is the most appropriate coating for the roof? Identifying and applying criteria for evaluating the existing assembly and selecting a roof rehabilitation approach allows owners and managers to make informed decisions about roofing options that will extend the roof's service life and improve performance.
Roof assessment strategies
Existing roof systems that are most likely to be candidates for recover are those that have performed well and are approaching the end of the warranty period. Managers should view a roof coating as a means of prolonging the life of an existing roof membrane, not as equivalent to a new roof system. 
Before moving forward with a roof recover project, managers should undertake an evaluation of the general field condition of the roof and the existing detailing and condition of roofing terminations. This process will confirm that the roof is a good recover candidate, and it will determine the extent of preparation and repair work required before the application of the new coating or membrane.
The installation of a roof coating will not correct existing roof detailing failures, and managers should not lean on it as a wholesale solution to roof water infiltration issues. A visual inspection can identify trouble spots where the existing detailing at areas like wall flashing, roof penetrations, and roof edges is not performing adequately and requires repair or replacement. 
Infrared inspection, electronic field vector mapping, and other nondestructive testing are useful tools and should be considered as part of the design process. Nondestructive testing aids in identifying areas in the existing roof membrane and insulation compromised by water infiltration that might not be observable through visual inspection. Replacing compromised insulation, repairing existing membrane failures, and ensuring that existing roof terminations are watertight are important prerequisites for recovering a roof.
Code considerations
When evaluating an existing roof system as a candidate for recover, owners and managers should consider these factors:
Building code. Is a roof recover permitted under the prevailing code requirements? The 2015 International Building Code (IBC) excludes the following conditions from receiving recover systems:
1.  Where the existing roof or roof covering is water soaked or has deteriorated to the point that the existing roof or roof covering is not adequate as a base for additional roofing
2.  Where the existing roof covering is slate, clay, cement, or asbestos-cement tile
3.  Where the existing roof has two or more applications of any type of roof covering. (IBC 706.3)
Drainage. The rate at which a roof system moves water to drains and the capacity of those drains to allow water passage are critical to roof performance. Ponding water increases the exposure of weak points in roofing and can exacerbate leaks. At its worst, ponding water can create loading concerns for the building roof structure. 
Existing membrane. As membranes age and are exposed to weather and ultraviolet (UV) radiation over time, the material loses elasticity and sectional thickness and might become brittle. An important consideration for recover projects is that a warranty for the coating material does not encompass the performance of the existing membrane. The recover system typically is only warrantied for its own properties and ability to adhere to the substrate. 
Single-ply options 
Provided the existing low-slope roof system meets the criteria for membrane integrity, drainage, and building code requirements, recover options offer various performance enhancements. A recover material can provide high solar reflectance, restore membrane mil thickness by providing a superficial top layer, and provide a new waterproofing surface. 
While a recover coating or membrane might be marketed as a watertight system, it is highly advisable to repair the underlying membrane before applying recover materials. While manufacturers have pretested and cataloged acceptable membrane substrates for their coating products, an in-person site visit and field adhesion test by the manufacturer's representative to confirm project-specific conditions and compatibility for warranty eligibility is highly recommended.
Recover options are categorized by chemical composition and as a coating or a membrane. Acrylic, polyurethane, and silicone coatings provide varying degrees of tensile, impact, and ponding water resistance, and they come in a range of price points. 
Acrylic. Cost-effective, reflective, and easy to install, acrylic coatings are water-based, single-component compounds that arrive on site ready to apply. But they are not suited for ponding water or cold-weather application and will lose thickness more quickly than alternatives over time.
When to consider. Comparatively shorter-term roof coating projects with the objectives of changing roof color, increasing solar reflectance, and providing additional protection to the existing membrane from UV damage.
Silicone. Silicone coatings can withstand ponding water and weather wear and offer a more durable option than acrylics. A multi-component, moisture-cure material, silicone requires specialized application equipment. Other shortcomings include a tendency to hold dirt and a low tensile and puncture strength. These coatings are available in high- and low-solid options, which managers need to take into consideration when determining the number of applications and the target thickness of the coating.
When to consider. A low-odor option that can provide temporary remediation for ponding water issues and additional protection for the existing membrane against erosion and UV damage.  
Polyurethane. With superior tensile strength, reflectivity, and durability, polyurethane is a versatile choice. There are two types of polyurethane coatings: aliphatic and aromatic. Aliphatic are UV stable, while aromatic are not. In two-coat systems, aromatics often are used as a low-cost base coat with an aliphatic topcoat. On the downside, polyurethane coatings create a strong odor during installation. 
When to consider. Long-term coating projects that aim to provide a level of water intrusion protection, change the roof color, increase solar reflectance, and provide additional protection to the existing membrane from UV damage and erosion.
Additional recover options include polyurethane-methacrylate (PUMA) and polymethyl-methacrylate (PMMA) systems, which are two-component, catalyst-cure membranes that include a fleece reinforcement. While providing superior performance in most categories, they require on-site field mixing and come at a cost premium. These systems might include additional measures like the installation of a new fastened base sheet membrane to meet manufacturer warranty requirements. Managers can consider them for overlay projects where a new waterproofing system and long-term warranty is needed. 
Price points for coating and roof membrane products vary by manufacturer and system. Generally, acrylic coatings are comparatively low-cost products with basic labor demands for installation. Silicone systems and polyurethane-based coating systems cost more and require more demanding installation methods. Liquid-applied resin overlay systems, including PUMA and PMMA, are the highest priced options, given that they include the installation of a new membrane and have the most rigorous mixing and application requirements. 
Modified bitumen options
Single-ply membranes are not the only class of roof assembly that can undergo roof recover applications. Modified bitumen roof (MBR) membranes can receive liquid-applied systems, and they are candidates for installation of new bitumen-based cap sheets. 
One consideration for MBR systems is whether the existing cap sheet has a granular or smooth surface. Loose granules are not suitable as a substrate for coatings or new cap sheets. To address loose granules, technicians can heat the existing membrane to embed granules, apply an asphaltic primer or flood coat to encapsulate granules, or use specialized vacuum equipment to remove the granules altogether. Preparation requirements will likely be dictated by the new coating or membrane manufacturer, and the installation will need to accommodate those requirements. Generally, a new bitumen-based cap sheet provides the best performance versus liquid-applied recover options. 
Installing a new MBR cap sheet is a consideration when the existing roof is an MBR system, not a single-ply system. As long as termination and penetration detailing are addressed, the new cap sheet can provide long-term, water-tight protection.
Beyond installation 
An established maintenance routine prolongs the life of the roofing system and helps identify leaks promptly. Following installation of the roof coating or recover membrane, installers should provide manufacturer maintenance guidelines to building engineers and ownership. This literature includes information regarding the timing of routine inspections, what to look for during roof evaluations, general care and upkeep recommendations, and directions for notifying the manufacturer of issues. Maintenance guidelines will vary by manufacturer and membrane. 
Typical roof inspection items include: 
• signs of stress, such as wrinkles and blisters
• evidence of mechanical abuse, such as punctures and cuts
• unusual wear due to excessive foot traffic
• evidence of damage caused by chemical attack or other adverse reaction to substances discharged on the roof. 
Maintenance recommendations might include:
• keeping the roof free of debris that might result in damage
• cleaning the membrane with low-pressure water and soft-bristle brooms
• maintaining clear drains and scuppers.
Spotlights on benefits
A successful roof coating or recover project can protect and prolong the performance of an existing roof system. Appropriately specified and applied roof coatings can protect the roof membrane from erosion and wear, resist degradation from solar radiation and pollution, and, in the case of high-albedo coatings, reduce the roof's surface temperature, which benefits the environment by decreasing the urban heat island effect. Where the existing roof is in good condition but nearing the end of its expected service life, a coating or recover membrane can improve performance and add years to the roof's lifespan. 
While the assessment and repair of an existing roof and the proper application of a roof coating should not be overlooked, the design and installation requirements for a roof recover are much less than those involved in a total roof replacement. Still, the longevity and weather protection of the new roof system depend on selecting a compatible product, accurately evaluating roof conditions, addressing deficiencies in detailing and drainage, and correctly installing the recover membrane.
Not all roofs are good candidates for recover. Before forging ahead with a roof coating project, owners and managers should review the options with an architect or engineer with building envelope expertise who can provide a roof assessment and impartial recommendation for the appropriate roof cover or replacement course of action.  
Daniel L. Bishop, AIA — [email protected] — is project architect with Hoffmann Architects Inc., an architecture and engineering firm specializing in the rehabilitation of building exteriors. Bishop diagnoses and resolves problems in roofs, facades, windows, and plazas for contemporary and historic structures.
---
---
---
Related Topics:
Comments