You deserve to live in a home that perfectly complements your style and aesthetic, but sometimes, your budget just doesn't allow for the decor you pine after. The good thing is that there is an amazing selection of affordable options out there today that might be considered 'cheap' but only when it comes to the price tag.
Because we love cheap homeware (who doesn't?) and because we want you to surround yourself with items you truly love, we've rounded up some home decor items that are as beautiful as they are a bargain!
Recommended reading: 9 tips and tricks to elevate your home decor
Arlo 100% Cotton Duvet Cover and Pillowcase Set, Dunelm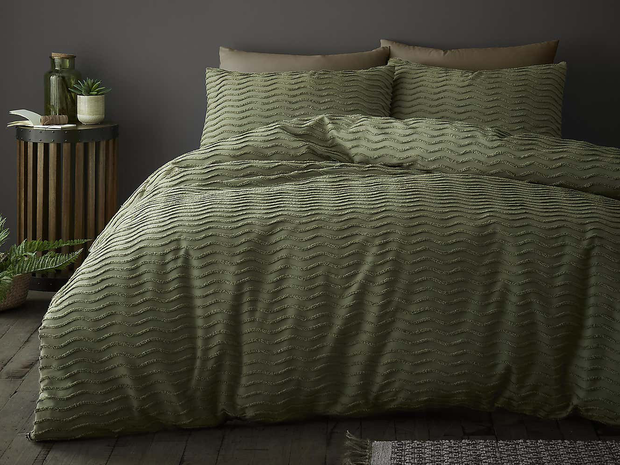 Texture; it's a great way to add intrigue to a room in a sophisticated way and this Arlo duvet cover set perfectly showcases this. The frayed edge detail that runs throughout the set livens up a monochrome duvet without adding lots of busy patterns or colours. Available in sizes single through super king and five colours, we love this bedding even more for its price point. It starts at just £32 and includes one duvet cover and either one or two pillowcases, depending on the size you buy. It's the ultimate cheap home decor that isn't cheap in look or feel in the least.
Shop now for as little at £32 at Dunelm
Stoneware vase, H&M Home

Perfectly blending the retro feel of a sculpture you'd find at the MoMA with the pared-back look of 21st-century colour palettes, this vase makes a beautiful addition to the home without breaking the bank. Whether in your living room, bedroom or bathroom, this stoneware vase has an added dash of quirky bringing personality to the room. We love that its surface is imperfect and textured so it catches the light in a unique manner. Throughout the day, this vase will change tones in the light and shadows making it as ever changing as the UK weather.
Shop now for just £19.99 at H&M Home
Nicola Spring Rattan Wall Mirrors, Groupon

Rattan is an elegant way to bring a natural feel to your home; it's the perfect neutral that goes with most any home decor. Where the Nicola Spring Rattan Wall Mirrors exceed our rattan expectations is the variety you can get in either buying one mirror or a set of two or three. The mirrors are available in various sizes, two different styles and you can even mix and match them! These take a plain mirror and give it visual intrigue. Whether you opt for one or a set of three, add it into your gallery wall or make it a statement piece, these are an affordable way to elevate your home's style.
Shop now for as little at £10.99 at Groupon
Oro Pendant Drum Light Shade, MADE

Pendant lighting can really bring down the style of a home, particularly if you're renting and you can't just swap out light fixtures! Enter; the Oro Pendant Drum Light Shade. MADE has nailed it with this lampshade with a great selection of colours, from soft neutrals to bold hues, a clever foiled interior to reflect light and an excellent price point. Swapping a drab lamp shade for one of these will instantly change the feel of your home and the metallic interior will make the room feel more warm and inviting when the light is on. To take it up a level, the Mail Online Best Buys team recommends trying out an Edison bulb or mirror-tipped light bulb with your new lampshade.
Shop now for just £35 at MADE
Anyday Pedal Bin, John Lewis

The bin in the kitchen is often overlooked as a way to contribute to the overall feel of your home's decor. But bins can often be a bit too pricey and who wants to pay loads for a bin? That's why we love this pedal bin in the John Lewis Anyday line, which launched earlier this year. Available in eight stylish colours and a matte finish, this bin is one you'll love having in the kitchen. What's more, as part of the Anyday range, you get the quality you expect from one of the UK's top department stores without a hefty price tag. In the end, it's an affordable home decor item that doesn't feel like cheap homeware at all. Fair warning: these bins are popular and colours do run out of stock from time to time!
Shop now for just £36 at John Lewis
Bliss by Borough Wharf TV stand, Wayfair

Raise your hand if you can't get enough of the look of mid-century modern furniture. Now, raise your hand if you've often been overcome with sticker shock while searching for the perfect living room addition. Well, Wayfair's home decor section delivers with this option; drawing inspiration from many mid-century modern designs, you can elevate the decor of your living room – and for less than £90! Available in both 'Brown' and 'Greige,' Bliss gets a lot of love from satisfied buyers, too. So, it's an inexpensive decor option that just makes sense.
Shop now for just £87.99 at Wayfair
Set of 8 Gallery Frames, M&S

If you want to personalise your wall art, a gallery wall is a great way to create aesthetic home decor with a personal touch. But, picking out the perfect frames for gallery wall art can be difficult and expensive. That's why this eight-piece frame set is the ideal starter set to get you well on your way to switching up your living room's style. Unlike usual gallery wall sets, we like that this option has a nice variety of sizes and a selection of lovely frame colours. Another characteristic that sets these apart from other cheap home decor options is each frame's deep lip, which creates a more elegant, high-end feel.
Shop now for just £35 at M&S
Apartment Leaner Mirror, Dunelm

If you're after a sleek, modern New York loft feel, this leaner mirror is a stunning way to achieve the look. It's been an absolute favourite among shoppers, but thankfully it's recently been restocked much to the delight of Instagrammers across the UK. While more expensive than most of the cheaper home decor we have on this list, the size of this mirror makes it a steal. And don't forget, mirrors make your space look larger, so it's almost like you're adding space to your flat or home!
Shop now for just £100 at Dunelm
Linen Fabric Accent Armchair, OnBuy

Wood frame chairs are popular pieces of living room furniture these days, and we love that this option falls into the budget home decor category without looking cheap. Pared-back in colour, texture and structure, this chair will suit most any decor. Its linen seat is an ideal fabric to be soft and comfortable but with an added layer of luxury. Whether you're entertaining and want your friends and family to be cosy or you're settling into a good book, this armchair will bring an elegant feel to your home.
Shop now for 74% off at OnBuy
Arch Triple Gold & Glass Dressing Table Mirror, Oliver Bonas

Sometimes, it's the small touches that set a piece of homeware apart from the crowd – which is why this adorable dressing table mirror has made this list. Petite, yet large enough for getting ready, this mirror is perfectly dainty. We love that the wing mirrors are tinted a rose gold hue and that they can be adjusted to get a better angle while doing your makeup or hair. For all its practical sides, this mirror doesn't sacrifice style; it's subtle, which is often the hallmark of good style, but also super affordable.
Shop now for £35 at Oliver Bonas
—
Prices updated on 30/08/2021. We are not responsible for any changes on the prices mentioned above.